UMHERZIEHEN IN SIMMERING & POESIE : ZUSAMMEN.RAUFEN (2017)
UMHERZIEHEN IN SIMMERING from and with Axel Brom and Claudia Heu
(ROAMING AROUND IN SIMMERING)
What can happen? What can come into being? What can one come across?We postulate that in our time an upright, present, open and aware body necessarily also is a political body. A body that is not permanently engaged, and therefore separated from its surroundings and the present, but an attendant body creating an open present. Which actions and gestures could come up in this awareness? What opens up behind the social and mostly unuttered rules of public space? Is there the possibility to experience new spaces and spaces anew, and thus new ways of encounter? Is there the possibility for a different and perhaps new intercourse with humans, nature, and things? We are interested in opening up a space of social diversity. For this we would like especially to invite all those in whose everyday life dealing with art and the body is not in the foreground. Will a similar space or field open up for people who have no body and awareness training as for those with much experience with body and presence? Does roaming have a specific language? Or does it have a universally valid language beyond training and agreed codes?

 
POESIE: ZUSAMMEN.RAUFEN (POETRY: GRAPPLING / GETTING IT TOGETHER)
by and with Jack Hauser and Claudia Heu and with many guests
POESIE : ZUSAMMEN.RAUFEN began with this letter on February 27, 2017.
DEAR FRIENDS, WOULD YOU LIKE TO JOIN US IN THE POETRY OF GRAPPLING TO GET IT TOGETHER? IN THIS CASE, JACK HAUSER & CLAUDIA HEU WILL MEET YOU FOR A PRELIMINARY TALK (WITHOUT GRAPPLING) IN VIENNA. EACH APPOINTMENT IS SOLITARY. SOMEWHERE. BINDING. THE DATES FOR THE GRAPPLING EVENINGS RESULTING FROM THESE MEETINGS ARE
ON JUNE 22 & 23, 2017 AT IM_FLIEGER. (PARTICULARS) MORE (OFF THE RECORD) VERBALLY.
WRITE TO BOTH OF US.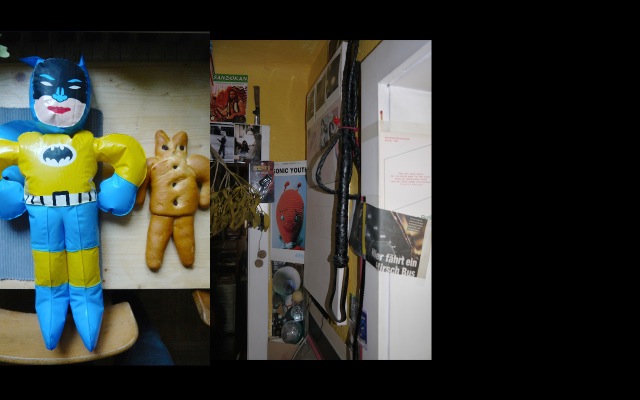 Foto: Jack Hauser
INNEHALTEN (PAUSING, 2016)
Which potential does pausing carry? Can we consciously practise it? Can there also be pausing in roaming? Which yet unknown, possibly also forgotten spaces will open up if we embrace time and that which time drives into our arms? What can happen? What can we come across? What can come into being? What happens to the self of which we are always speaking? What happens to the You, the other, the alien? Pausing. Interrupting. Taking a break. Being. Stance.
Claudia Heu and Axel Brom roam Vienna.
Claudia Heu (AT) works internationally as a choreographer, performer and lecturer. Her work focuses on site-specific performances and installations. In her co-operation with Jeremy Xido in the artist collective CABULA6, she developed a work understanding that shows the potential to make the 'invisible' visible in the work of art, and to create areas of experience in which reflection is provoked by participatory action. Varied artistic collaboration, among others. Igor Dobricic, Michael Pinsky, Ayad Akhtar Stehle, Barbara Kraus, Jack Hauser, Sabina Holzer, Martin Sonderkamp, ​​Gerhard Filei, Lisa Hinterreithner, Zoe Knights, Amanda Piña and Daniel Zimmermann. In co-operation with Roland Schmidt, in 2014, she began the research project "We are our time" at the invitation of tanz_buero Salzburg, a place where art and life, ecological economy, solidarity and resistance flow into one another. Her recent works led Claudia to Ulan Bator, the United States (The Keep) and Israel (lanes). For 2018, she plans an audiovisual installation in the Gobi Desert (Alga Bolokh III - The Disappearance). Currently, she works within the framework of metabolism - ecologies of cooperation, a 2-year transmedial research project initiated by Im_ Flieger. www.claudiaheu.com