BODY INTELLIGENCE
The body has a memory and possesses an intelligence that immediately denies the images generated by the body. One might suppose that it contests its intelligence. But that is just its intelligence!
(Marcus Steinweg / Inkonsistenzen, Berlin 2015)
POESIE: ZUSAMMEN.RAUFEN (POETRY: GRAPPLING / GETTING IT TOGETHER)
by and with Jack Hauser and Claudia Heu and with many guests
POESIE : ZUSAMMEN.RAUFEN began with this letter on February 27, 2017.
DEAR FRIENDS, WOULD YOU LIKE TO JOIN US IN THE POETRY OF GRAPPLING TO GET IT TOGETHER?
IN THIS CASE, JACK HAUSER & CLAUDIA HEU WILL MEET YOU FOR A PRELIMINARY TALK (WITHOUT GRAPPLING) IN VIENNA.
EACH APPOINTMENT IS SOLITARY. SOMEWHERE. BINDING.
THE DATES FOR THE GRAPPLING EVENINGS RESULTING FROM THESE MEETINGS ARE ON JUNE 22 & 23, 2017 AT IM_FLIEGER.
(PARTICULARS) MORE (OFF THE RECORD) VERBALLY.
WRITE TO BOTH OF US.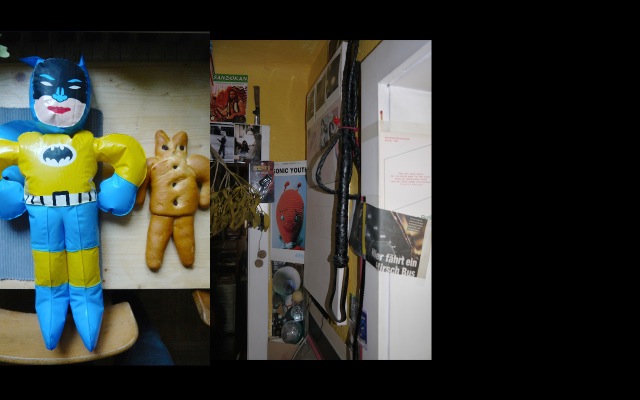 Foto: Jack Hauser

JACK HAUSER (AT) was born in 1958 in Horn / Lower Austria. After working as a chemist he studied from 1983 to 1986 electro-acoustic music in Vienna. 1994 foundation member of the performance band Lux Flux. Since 2003 co-operating with Milli Bitterli, 2014 /15 he develops together with Lisa Hinterreithner the performance-series "The Call of Things". And since 2005 numerous joint projects with Sabina Holzer.
Constructs performative interventions and experimental works with various matter which since 1999 have been run and attended to as "Wohnung Miryam van Doren" ("Apartment Miryam van Doren"). Exhibited at Lentos Kunstmuseum Linz, Documenta(13) Kassel, Hidden Museum Fraxern, MachfeldStudio Wien, Museum Essl Klosterneuburg, Fluss NÖ Foto Wolkersdorf, Various Artist Berlin and at Private Places.
In recent years collective, co-operative artistic projects with Daniel Aschwanden, Thomas Ballhausen, David Bergé, David Ender, Karlheinz Essl, Philipp Gehmacher, Satu Herrala, Anne Juren, Krõõt Juurak, Inge Kaindlstorfer, Barbara Kraus, Elke Silvia Krystufek, Machfeld, Roland Rauschmeier, Jeroen Peeters, Markus Schinwald, Oleg Soulimenko, Myriam Van Imschoot, Simon Wachsmuth and others.
Member of the editorial staff of www.corpusweb.net.